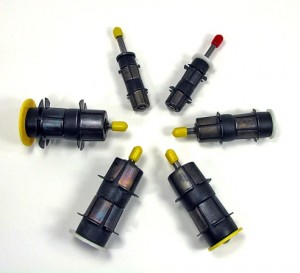 Our patented Metal Projectile Tube Cleaner represents the pinnacle in mechanical tube cleaning devices.  This tube cleaner is specifically designed for extremely difficult deposits and is able to outlast the competition's designs.  The metal tube cleaner is able to remove all types of condenser tube deposits including mud, silt, slime, mineral deposits such as manganese and calcium based compounds, oxidized compounds, and various micro and macro biologic fouling.  Our patented design employs durable rubber bushings, which allow for a longer tube cleaner life expectancy of approximately 15 passes.  The Metal Projectile can be used to clean heat exchanger and condenser tube sizes ranging from 5/8" to 1 ¼" (15.875mm to 31.750 mm) outer diameter (O.D.).
Spring Tension vs. Projectile's Patented Design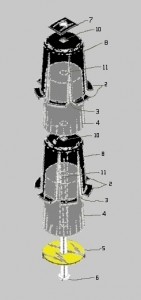 Since the inception of mechanical tube cleaning, metal tube cleaners have used spring tension in order to create outward force on the tube. Today numerous companies offer similar metal tube cleaner designs that implement only spring tension in order to create force. Projectile's design is different in that it combines both spring tension blades and rubber bushings. This combination allows for more force to be applied to the tube as well as ensuring a longer lifespan for each tube cleaner. The longer lifespan of our Metal Projectiles can be attributed to the resiliency of the rubber bushings. On traditional spring tension designs, wear and tear is concentrated primarily on one area, the angled radius. Our design spreads force across the two rubber bushings, which due to their resiliency, return to their original size once pressure is removed. Thus after numerous passes the diameter of the tube cleaner, and ultimately the outward force that it applies to the tube, remains essentially unchanged. Without the resilient rubber bushing other tube cleaner designs take on much more wear and tear and are much less effective overtime. Projectile's design ensures that whether the product is being used the first pass or the tenth pass, the amount of force being applied remains unchanged.
Our patented metal tube cleaner is designed to remove deposits such as mud, silt, slime, manganese, calcium, and other deposits from the inside of condenser and heat exchanger tubes without harming the tube surfaces. Our patented design employs rubber bushings. These allow for a longer life expectancy, approximately 15 passes, and these bushings allow us to adjust the poundage in order to perfectly fit each unique tube size.  Projectile sizes are available for tube sizes 5/8" to 1 ¼" (15.875mm to 31.750 mm) outer diameter (O.D.).