Inlet and Outlet Hoses
Projectile's inlet and outlet hoses are durable mine spray hoses that are rated up to 1,000 psi.  The inlet hose is a 1½" diameter hose that connects the water supply to our pumping system.  The ¾" outlet hose runs from the pump to the gun and is durable, but also light and user friendly.  Both hoses come equipped with national pipe thread pressed fittings.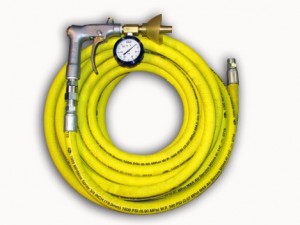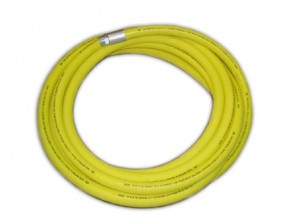 Fiberglass Push Rod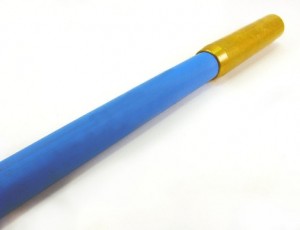 Projectile Tube Cleaning's flexible fiberglass rod is used for removing blockages from obstructed tubes.  The
rod comes with a durable brass tip for pounding out blockages and the rod is flexible enough to be maneuvered into confined spaces, like condensers.  The fiberglass rods can be cut to any length necessary.
Tarps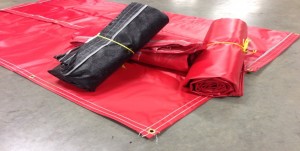 Condenser and heat exchanger tube cleaning can be messy business, but our special line of tarps help to decrease the mess and keep a job site organized.  We provide both solid and mesh tarps depending on the application.  The tarps come equipped with durable steel grommets in multiple locations along the edges so they can be hung effectively even when working with awkwardly configured equipment.
Accumulator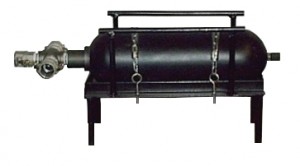 Projectile Tube Cleaning's accumulator is an important piece of equipment to use in conjunction with our pumping system.  While cleaning tubes, pulling and releasing the water gun trigger creates vibrations throughout a water system.  These vibrations represent sharp changes in pressure levels that occur when the trigger is opened and closed.  The accumulator is used in order to absorb these changes in pressure.  Without this vital piece of equipment, facility water supply lines or other associated equipment such as hoses and gauges could be damaged.